Sherwood Golf & Country Club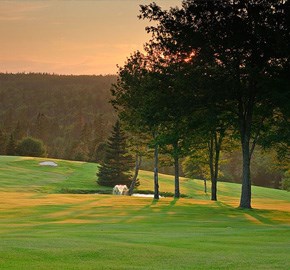 HOLE #1
This Par 4 has an elevated tee with a elevation drop of 100+ feet from tee to fairway. Take out the driver for this wide fairway but beware a small pond right of the fairway which holds one of Sherwood's five fountains. The approach is to a crowned green so spin plays a big factor in keeping your ball on the putting surface.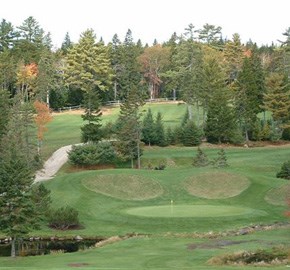 HOLE #2
BEAR PAW
The toughest hole on the course and maybe the toughest Par 3 in Nova Scotia offers great views from its elevated tee block. This 217 yard hole surrenders more bogeys than pars, due to swirling winds and an elevation difference of 100 feet from tee to green. The front of the green is lined with a natural running stream and pond as the back is guarded with three large grass bunkers. This hole will challenge any golfer's abilities and humble you at the same time.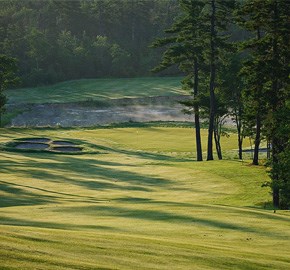 HOLE #3
This newly renovated Par 5 offers a wide landing area off the tee with two creeks running through the fairway. A well placed tee shot well leave you a lengthy approach to the green which is elevated into a hillside protected by water and sand traps in the front. This postage stamp green has three levels making putting very difficult to judge, make sure you find the right level off your approach to make this hole a possible birdie.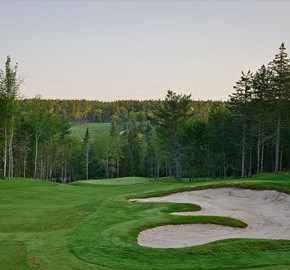 HOLE #4
This Par 4 has no hazards to mention except being tree-lined from tee to green on both right and left sides. A well placed tee shot to this heavily mounded fairway will leave you with a short iron approach from an uneven lie. The green is elevated making club selection difficult, take an extra club and go for the pin.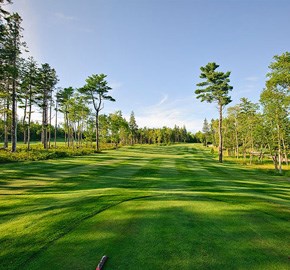 HOLE #5
This dogleg right Par 4 has a very narrow landing are off the tee but with a well placed drive a short iron approach is your reward. This blind approach shot to the elevated green can be a tough, with trees surrounding this green, make sure you take an extra club.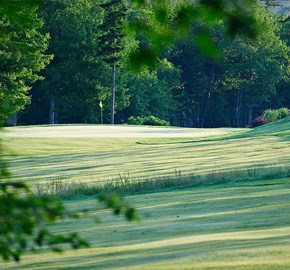 HOLE #6
This 135 yard Par 3 has a medium sized green surrounded by dense forest. There are no hazards to mention but a wayward shot will find the forest. The green is elevated making the hole play slightly longer than the yardage suggested. A well placed tee shot will reward you with a great chance for birdie.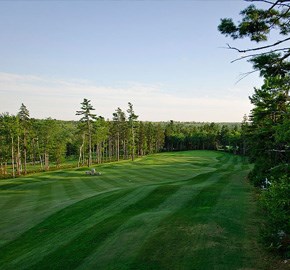 HOLE #7
THE RUINS
This downhill Par 4 has an elevation drop of 85+ feet from tee to green. The prevailing winds are directly into the golfer making the yardage play longer than it is. Trees outline the hole from tee to green, an accurate tee shot is require to setup your approach. The large green supports many pin placements to fool the golfer but there are no hazards on the approach.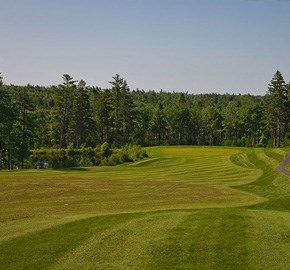 HOLE #8
This straight away Par 4 has an elevated tee shot to a narrow landing area. A well placed tee shot will leave you with a short iron approach to a green that has a large water hazard to its front left portion. This hole represents a great birdie opportunity but a large number could be around the corner with a wayward approach shot.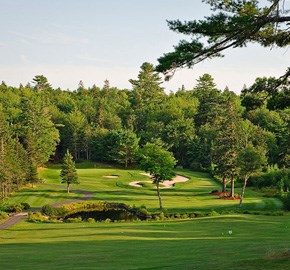 HOLE #9
WHISPERING PINES
One of the longest holes in Nova Scotia this 620 yard Par 5 is how a round of golf is supposed to be finished. This hole, referred to as Pine Alley offers a stretch of beautiful, mature Pine tree lining the left and right sides of the hole. With the right tee shot a decision has to be made to layup before or beyond an L-shaped pond dissecting the hole. Your approach to this small green has to be perfect with a pot bunker guarding the front right portion of the green. This hole offers great length, elevation change, and views unsurpassed anywhere in Nova Scotia.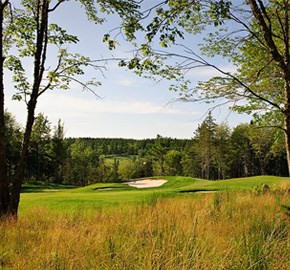 HOLE #10
EAGLES PERCH
This short par 5 offers a great birdie opportunity to begin the round, but with a tight landing area off the tee. Play a smart tee shot and you'll be rewarded with an easier lay-up. The approach to the green offers little room for error with its narrow green, being long on this approach is not an option due to a severe drop off the back of the green.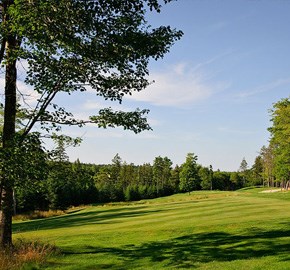 HOLE #11
PASSAGE
The second hole tests golfers with a tight tee shot through a tunnel of hardwood and pine trees. There is also a small stream which dissects the fairways into two halves forcing golfers to lay-up into the first fairway or hitting driver to the second fairway. The green is small with major undulation, position of the approach shot plays a big factor.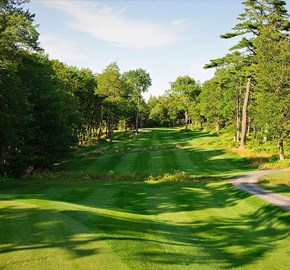 HOLE #12
This 172 yard Par 3 is as difficult as they come. The green is protected on both side with large hardwood tree and severe slopes that lead away from the green for miss played shots. Accuracy is crucial making club selection a key element when playing this hole.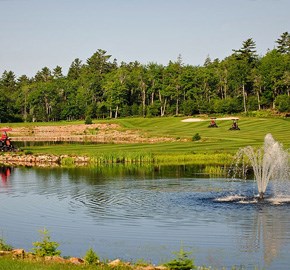 HOLE #13
MAPLE'S MIST
This challenging Par 4, dogleg left, crosses over two stunning water features. With a perfect tee shot you are left with an approach over water to a medium sized green that will challenge all your shot making ability. This hole offers a variety of beautiful hard wood trees rendering its name.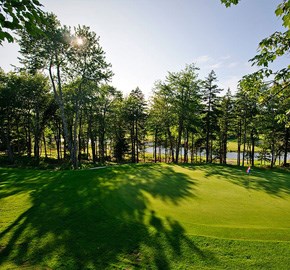 HOLE #14
This 165 yard Par 3 is downhill to an open green with severe slopes that lead away from the putting surface. This hole offers a great chance to make birdie, but an accurate tee shot is required.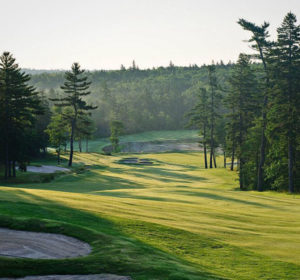 HOLE #15
LEANING SPRUCE
Deemed to be one of the toughest Par 5's in Nova Scotia this extensively bunkered hole is definitely a three shot hole. A long tee shot is required to position you for the ideal angle to layup. The approach to this large green, which has bunkers in the front and water in the back, offers very little forgiveness for inaccurate shots. A par on this hole is a good score.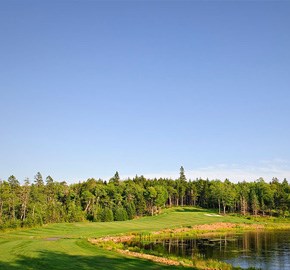 HOLE #16
This 186 yard Par 3 is over water to an elevated two teared green. Pending on the pin placement you need to be careful about getting above the hole here, your first put could find its way off the surface. The green is protected by two bunkers that are located in the front portion of the green.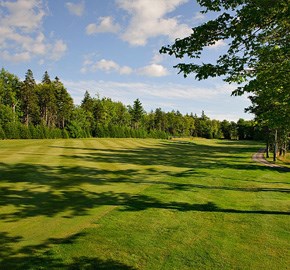 HOLE #17
The longest Par 4 on the course, at 470 yards, was originally a short Par 5 converted back. The tee shot is over water to a large landing area leaving the golfer with another lengthy shot to a green protected by bunkers in the front right and left portions of the green. Par is a great score here.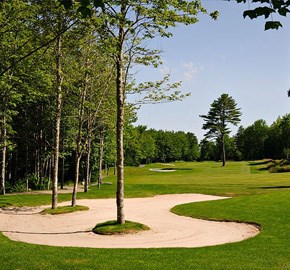 HOLE #18
This Par 4 has a slight dogleg left with fairway bunkers that stretch for 300 yards down the right side. With the left side engulfed with fescue from tee to green the tee shot has to be a straight one. The approach is to a long narrow green making yardage to the pin hard to judge. The green has two levels with water in the back portion of the green.